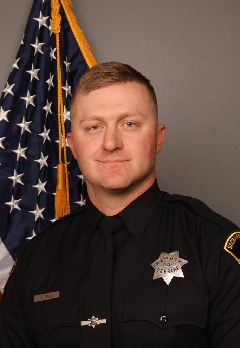 Deputy Adam S. Gibson
Sacramento County Sheriff's Department
EOW: January 18, 2021


At 10:07PM on January 18, 2021, Sacramento County Sheriff's deputies observed a vehicle in a parking lot that matched the description of a vehicle involved in a theft series. Deputies initiated contact with the single occupant of the vehicle who became uncooperative and fled in his vehicle. A pursuit ensued with multiple officers joining, including Sheriff's Canine Detail Deputy Adam Gibson, in an attempt to stop the suspect. The pursuit entered the Cal Expo Complex and the suspect's vehicle became disabled after driving over a concrete parking block and hitting a fence.
Deputies gave several commands for the suspect to exit the vehicle but he refused. A sheriff's canine was deployed into the vehicle and engage the suspect. The suspect fired a gun at the deputies, striking two of them and the canine as they began taking him into custody. Deputies returned fire, fatally wounding the suspect.
Deputy Adam Gibson was transported to the hospital where he succumbed to his injuries. The second deputy was stabilized and transported to a trauma center for further treatment. Sheriff's K9, Riley, was pronounced dead at the scene.
Deputy Adam Gibson served in the United States Marine Corps and did two tours in Afghanistan, where was highly decorated for his service to his country. Deputy Gibson was a 6-year veteran of the Sacramento County Sheriff's Office and was assigned as a K9 handler for the Central Patrol Division.